This is more of a general good practices question, I suppose. I have a good size SOHO network, with fiber service. I want to segregate into VLANs to limit the number of devices per domain. I have several L3 capable switches to achieve this, and my wiring is a star topology. I note that almost every example I can find show the core switch doing the L3 routing and every other distribution switch in L2 mode. This seems sub-optimal for many of the same reasons as router-on-a-stick (traffic has to go all of the way to the core, even if the destination is on a different VLAN on the local distribution switch). I'd like to avoid that, but I'm having trouble making it work in my lab configuration. I think this is because either:
I have multiple L3 switches trying to route for the same network or
I need to have static routes setup between the L3 switches
The question is, should this be able to work, and is it a good idea, or should I just put the distribution switches into L2 mode? Here's a diagram.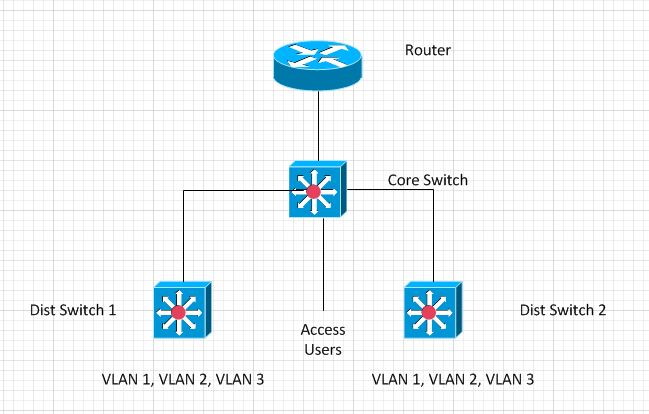 All 3 switches have all vlans configured, and SVI's created. The core has a 0.0.0.0 route to the internet gateway router, the distro switches have a 0.0.0.0 route to the core. PCs connected to the distro switchs on the native vlan work 100% (can access internet) but when connected to a non native VLAN port (with gateway of the distro switches VLAN SVI) they can only see computers on the VLAN (on any switch in the network) - so VLAN trunking is working at L2, but the L3 routing is not.
Brett